On the occasion of Saraswati Puja 2022, households and educational institutions in Bihar saw a subdued celebration of the festival, in strict adherence to Covid norms. Meanwhile, Chanchal Jha S/O Shri Sambhu Nath Jha at "Maa Durga Awasiya public school/coaching centre 10+2" located in Bihar, Ward no 10, Village Babhani, District Madhepura- 852131 has safely organised this festival with the adherence to Covid norms public at large. Talking to Youth Darpan here, Chanchal Jha Said that, Every year, we used to have a grand puja with family and friend, and our home was decorated with lights and flowers. But this time, due to the Covid safety guidelines and heavy rainfall in Bihar, we kept it small. While some areas saw subdued celebrations, flower markets in Bihar saw huge crowds.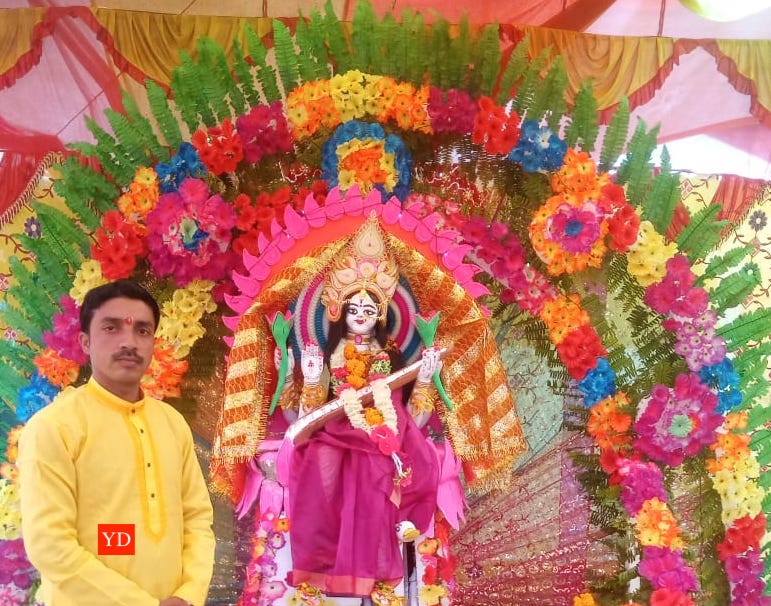 Further, At Parasmani High School, Babhani, primary health care centre, markets and other residential places saw a subdued celebration of the festival in strict adherence to the pandemic. For instance, Abhinay Singh, which has been celebrating Saraswati Puja at Village Babhani, Ward no 12 Near Mela Ground, for the last five years, will observe it in a restricted way, while maintaining Covid-19 guidelines. Further, In the same village ward no 11 at primary health care centre/Praathamik Chikitsa Kendra has organised this festival collectively with the coordination of villagers and students namely Abhimanyu kumar, Deva Kumar, Sonu, Sagar, Kamlesh, and Sashi.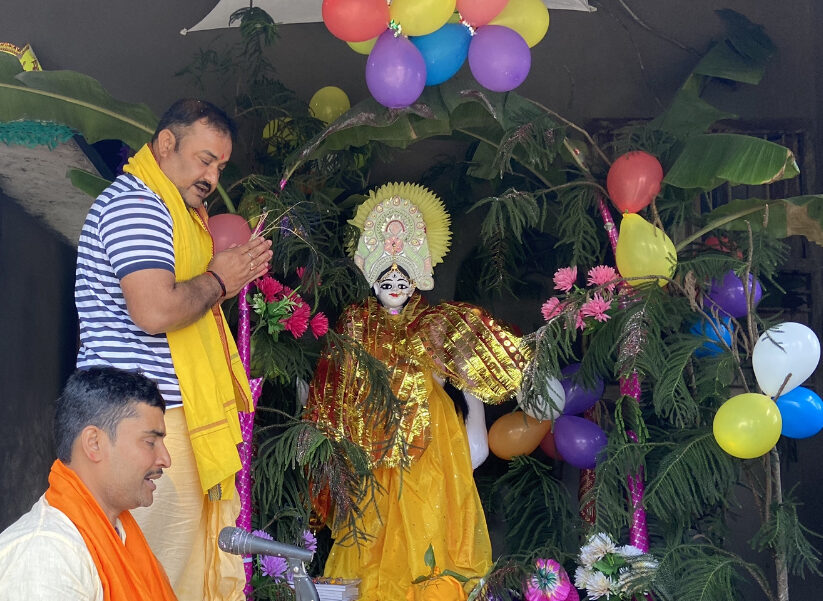 Significantly, Saraswati Puja is a Hindu festival and dedicated to the goddess of music, art and knowledge called as Saraswati. This festival is celebrated in January or February across the India. Further, The name Saraswati came from "saras" (meaning "flow") and "wati" (meaning "she who has "), i.e. "she who has flow". So, Saraswati is symbol of knowledge; its flow (or growth) is like a river and knowledge is supremely alluring, like a beautiful woman. In Hinduism Saraswathi is the goddess of knowledge, music, arts and science. She is the consort of Brahma, also revered as His Shakti.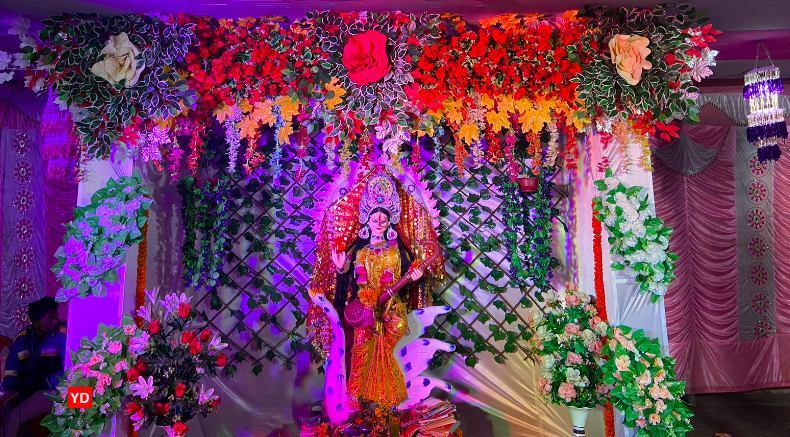 During the occasion Brahmins are fed, god of love Kamadeva is worshipped, special prayers for goddess Saraswati are organized by many educational institutions, Pitr Tarpan or ancestor worship is performed and children are taught to write their first words. On this day, yellow color is considered very important and therefore people dress up themselves in yellow color clothes, consume yellow sweets, and worship Saraswati in yellow clothes. The goddess is offered yellow flowers, gulal, fruits, yellow colored sweets, roli and moli.
Moreover, Vasant Panchami day is dedicated to Saraswati, the Goddess of knowledge, music, arts, science and technology. Goddess Saraswati is worshipped on Vasant Panchami day. Vasant Panchami is also known as Shri Panchami and Saraswati Panchami. People worship Goddess Saraswati to get enlighten with knowledge and to get rid of lethargy, sluggishness and ignorance. This ritual of initiating education to children is known as Akshar-Abhyasam or Vidya-Arambham/Praasana which is one of the famous rituals of Vasant Panchami. Schools and colleges arrange pujas in the morning to seek blessing of the Goddess.
Saraswati Ya Kundendu is the most famous Stuti dedicated to Goddess Saraswati and part of the famous Saraswati Stotram. It is recited during Saraswati Puja on the eve of Vasant Panchami. In the Rigveda, Saraswati is a river as well as its personification as a goddess. In the post-Vedic age, she began to lose her status as a river goddess and became increasingly associated with literature, arts, music, etc. In Hinduism, Saraswati represents intelligence, consciousness, cosmic knowledge, creativity, education, enlightenment, music, the arts, eloquence and power. Hindus worship her not only for "academic knowledge", but for divine knowledge essential to achieve moksha.
Consequently, The goddess Saraswati is often depicted as a beautiful woman dressed in pure white often seated on a white lotus, which symbolizes that she is founded in the experience of the "Absolute Truth". Thus, she not only has the knowledge but also the experience of the Highest Reality. The lotus on her hand symbolizes true knowledge. She is mainly associated with the colour white, which signifies the purity of true knowledge. Occasionally, however, she is also associated with the colour yellow, the colour of the flowers of the mustard plant that bloom at the time of her festival in the spring. Saraswati is the mother of Sanskrit the language of the Gods and is the consort of Brahma.
Author: Trilok Singh is with CEO here. MA in Political Science, Kirori Mal College, University of Delhi. Also, Masters in Mass Communication & Journalism at International School of Media and Entertainment Studies, News 24 Campus. Founder and CEO at Youth Darpan Media, IASmind, India's Journal, and Post A2Z Social Media.